Can you feel it in the air? It is finally August and that means one thing: less than one month until the college football season starts. It is the best time of year for fans filled with optimism, where every team (even you Kansas) starts with a clean slate and has their eyes on the College Football Playoff. Most of the eyes, however, are on the Power 5 conferences. While the current setup makes it tough for any non-Power 5 team to make the CFP, there are plenty of very good teams that will be competing for that Group of 5 New Year's bowl spot. This brings us to the American Conference.
The big slogan for the AAC this year? Power 6. Yup, this is the perception the AAC is trying to create for themselves. And why not? The AAC is, in my opinion, the strongest overall Group of 5 conference and has teams that could easily compete at the P5 level (there is a reason most Big 12 expansion candidates are in the AAC). This year is no different; the top of the AAC is stacked. Teams like USF, Houston and Memphis will be vying for the New Year's bowls, while teams like Cincinnati, UConn, and Temple will be looking to get off to strong starts with new coaches.
Included in this article is my entire preview for the upcoming AAC football season, complete with preseason rankings, Player of the Year picks, and the biggest non-conference games.
Rankings
This is my opinion of the preseason rankings. Everything here will be entirely correct and in the exact order that the final standings will be (yeah, right).
USF
Memphis
Houston
Temple
Navy
Tulsa
UCF
Cincinnati
SMU
Tulane
ECU
UConn
Analysis: USF should be far and away the best team in the conference with Charlie Strong at the helm and Quinton Flowers running the offense.
Memphis should be right behind them with Riley Ferguson behind center and a very strong defense on the other side of the ball.
Houston has a star in Ed Oliver on D (more on him later), but has some questions on offense that have the potential to get answered pretty quickly.
Temple, Navy, and Tulsa are solid teams but filled with some question marks on both sides of the ball (especially Tulsa's defense, which seemed to not exist last year) so it drops them into the next tier.
UCF should be solid as Scott Frost has built up quite the defense two years after an 0-12 season, however, the offense struggled mightily to score against better competition last year.
Cincinnati will be an interesting team with new HC Luke Fickell, as it looks like the changes he has put in place after Tommy Tuberville left have altered the atmosphere around the program.
SMU has a lot of questions on defense (sensing a theme with this conference?) that will need to be answered if they want to finish higher in the standings by seasons end.
Tulane, ECU, and UConn round out the bottom of the conference, as each has strong points here and there (Tulane's secondary, ECU's offense, and UConn's defensive backs/linebackers) but they have more holes to fill all around than the middle of the pack.
Preseason Players of the Year
Offensive: Quinton Flowers, USF
He is the most talented offensive player at the most important position. He won this award last year (2812 passing yards, 24 TDs/7 INT, 1530 rushing yards 18 TDs) and with an even Strong-er (ha, get it? Charlie Strong?) team, he should be the runaway favorite yet again
Defensive: Ed Oliver, Houston
This was a tough one.  Ed Oliver has the most hype around him and arguably the most talent, but Shaquem Griffin won the award last year with UCF and will likely have another very strong season again. However, I do think Oliver wins the award as he is just a wrecking ball on the defensive line.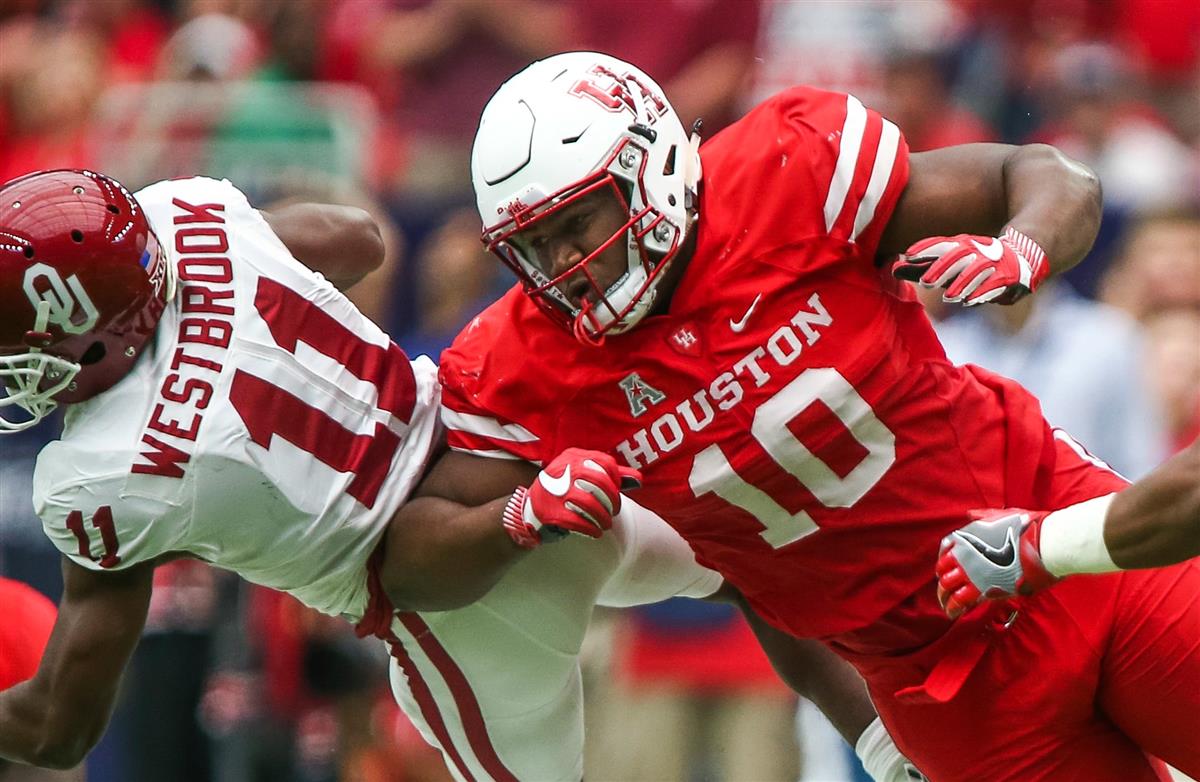 Biggest non-conference games
Non-conference games for the AAC are very important as wins in big ones can change the perception of the league. If they want to become a Power 6 conference, they need to show up big in these games.
UCLA at Memphis: This game is big because not only will UCLA be a pretty strong P5 team, but Memphis will be looking to prove itself on the road early in the season to show it can compete at the top of the AAC.
Texas Tech at Houston: Another matchup involving a top AAC team, Houston will be looking for an in-state win and will also be trying to prove it can win in a shootout, as that is what Texas Tech will give them.
Illinois at USF: Yeah, Illinois isn't a big out of conference opponent at this point, but USF has a very soft schedule (this is their hardest OOC game by far) and if they want a shot at the New Year's bowls, they will need to take care of lower P5 competition without much trouble.
Conference Previews
SEC East
Pac 12 North
Pac 12 South
Mountain West
CUSA
MAC
Sun Belt