Bob Stoops is hanging up the whistle and calling it a career after 18 seasons at Oklahoma. The winningest coach in Oklahoma's storied history announced yesterday that he was resigning effective immediately and that offensive coordinator Lincoln Riley would be his successor. Stoops' retirement announcement was met with an outpouring of praise from some of his current and former players on social media.
If you are wondering how @OU_CoachStoops' current and former players feel about him…just look at my face in this picture. Will be missed. pic.twitter.com/cJTUFxQM2w

— Gabe Ikard (@GabeIkard) June 7, 2017
The man had to deal with more shanks than bombs, but always met me halfway onto the field to remind me I could be great. Time of my life. pic.twitter.com/W5cyASqsb2

— Tress Way (@tress_way) June 8, 2017
Thank you for the opportunity. Words will never be enough to show how grateful I am that you changed my life. Legendary. @OU_CoachStoops

— Dimitri Flowers (@treeflowers36) June 7, 2017
While the timing of Stoops' retirement announcement is questionable, his legacy as one of the greatest coaches in college football history is not. It is nearly impossible to pinpoint exactly which one of Stoops' many accomplishments is the most impressive. You could say it was the fact that he lead the fastest and most successful rebuild in the history of college football. When Stoops was first hired at Oklahoma in 1999, he inherited a program that had not had a winning record in five years. His predecessor John Blake had compiled a lackluster 12-22 record in three seasons in Norman. None of the players on Stoops first team had ever even so much as played in a bowl game, much less won one. To say the program was in shambles would have been an understatement.
Then, two years later, this happened.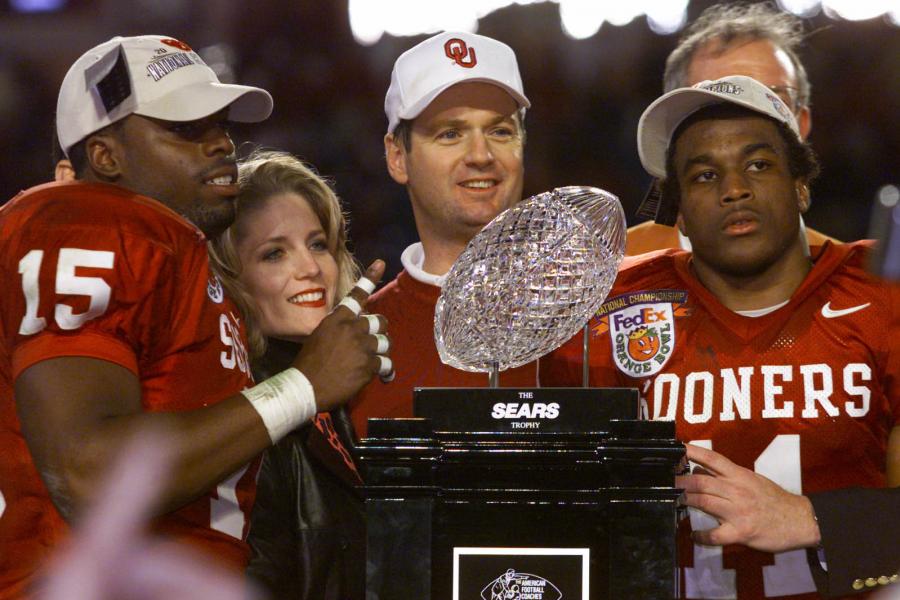 It took less than 25 months for Stoops to elevate the Sooners from a sub-500 team to 12-0 and a national championship. That 2000 national championship team was led by Heisman Trophy runner-up QB Josh Heupel. Heupel, who later returned to Oklahoma as a quarterbacks coach and offensive coordinator, was the first of Stoops' five Heisman finalists including a pair of winners in Jason White in 2003 and Sam Bradford in 2008.
Another barometer often used to gauge a coach's legacy is his coaching tree. With the possible exception of his mentor Bill Snyder, Stoops' coaching tree is unrivaled by any other coaches over the past two decades. Mike Leach, Chuck Long, Mark Mangino, Jay Norvell, Bo Pelini, Mike Stoops, Kevin Sumlin, Kevin Wilson and now Lincoln Riley are all former Stoops assistants who have gone on to become head coaches at the Division I level.
My personal favorite Stoops fact is that during his 18-year career in Norman, he amassed more Big 12 championships (10) than home losses (9). If that doesn't scream consistency, I don't know what does. He consistently dominated one of the best conferences in the country for almost two decades. Here is Stoops' record versus every other Big 12 team over the past 18 years.
Stoops vs. Kansas: 12-0
Stoops vs. Iowa State: 12-0
Stoops vs. Missouri: 8-1
Stoops vs. Baylor: 15-3
Stoops vs. West Virginia: 5-1
Stoops vs. Kansas State: 11-3
Stoops vs. Texas A&M: 11-3
Stoops vs. Oklahoma State: 14-4
Stoops vs. Nebraska: 6-2
Stoops vs. Colorado: 6-2
Stoops vs. TCU: 5-2
Stoops vs. Texas: 11-7
Even the other elite coaches in the league couldn't touch Stoops.
Stoops vs. Mike Gundy: 10-2
Stoops vs. Bill Snyder: 10-3
Stoops vs. Mike Leach: 6-3
Stoops vs. Mack Brown: 9-6
For me personally, Stoops was more than just a football coach. He was an integral part of my childhood. The 2000 National Championship Game is the first sporting event that I ever remember watching. I spent my childhood living in Oklahoma and bleeding crimson and cream. Both my parents, my grandad, two uncles, two aunts and two cousins all went to Oklahoma, so as the song goes I was absolutely Sooner born and Sooner bred. I don't think I've ever seen an entire state as happy as the Sooner State was for the next few months.
Some of my best childhood memories took place right there in section 107 of Gaylord Family-Oklahoma Memorial Stadium. I was there in 2003 when Antonio Perkins had a NCAA record three punt return touchdowns in a game against UCLA. I was there in 2004 when some freshman running back named Adrian Peterson ran for 100 yards in his first ever college football game. And I was there in 2012 when Blake Bell carried half of the Oklahoma State defense into the end zone on fourth down with four seconds left to tie the game and force overtime. The Sooners eventually went on to win that game and give Stoops his eighth Big 12 title. I was there for all of it, and so was the man in the white visor patrolling the sidelines.
One of the most unusual aspects of Stoops' retirement, besides the timing, is the fact that he got to go out on his own terms. This is an opportunity that many great coaches like Bobby Bowden and Mack Brown do not get. His departure is reminiscent of another great coach, John Wooden, who walked away following his 10th national championship in 12 years because he didn't want to leave his successor with an empty cupboard. Yesterday, Stoops walked away from a team that has won back-to-back outright Big 12 titles, a quarterback who is coming back for his senior year after finishing third in the Heisman voting last season and a squad that is almost a lock to start this upcoming season ranked in the top 5. I'd call that a pretty well-stocked cupboard. Lincoln Riley is certainly walking into a much better situation than the one that Stoops walked into 18 years ago.
Oklahoma football was one of the best parts of my childhood, and I owe a large part of that to Bob Stoops. He resurrected a winning tradition and brought back that Sooner magic that many people thought was gone forever. His 18-year reign in Norman will be remembered by generations of Sooner fans to come. On behalf of every young kid who grew up with the privilege of watching one of the greatest coaches to ever do it, thank you, Bob Stoops.